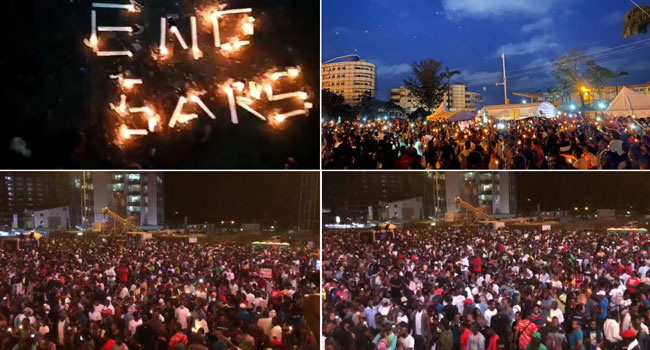 Protesters calling for an end to the brutality suffered at the hands of the Special Anti-Robbery Squad (SARS) have held a candlelight vigil in honour of all those who have been killed by operatives of the unit and the police in general.
Following a protest which has lasted for a week and three days, the protesters gathered around various areas of the Lagos metropolis to mourn the death of friends, loved ones, and family members who met their cruel end at the hands of SARS officials.
At the different locations where the candlelight event is holding, prayers were said after which the demonstrators sang the National Anthem in respect of the country.
Lagos is not the only place where the candlelight ceremony is taking place, a similar event is taking place at the nation's capital, Abuja, and in Port Harcourt.
Those who could not join the event physically have taken to social media in solidarity with the protesters on the ground.
CHANNELS